I worry about myself sometimes!
"Where are my keys?"
"Who was I supposed to email today?"
"What was it that I wanted to pick up at the store on my way home?"
There is a command in Scripture to do some purposeful remembering about something far more important than keys and groceries – we're to be remember the cross:
And when he had given thanks, he brake it, and said, Take, eat: this is my body, which is broken for you: this do in remembrance of me.
I've heard these verses read many times as I've taken communion at church, and I heard them again this past Sunday as we remembered the Lord's death.  The bread was distributed, then a prayer was spoken, thanking Christ for being our sacrifice.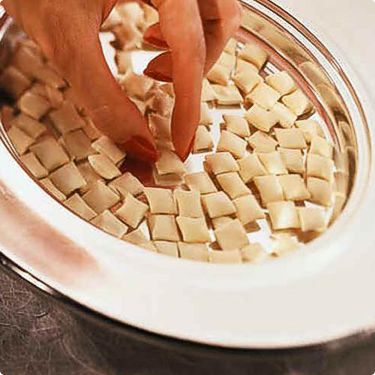 I took the bread and put it in my mouth.  As my teeth bit down into the small wafer, the words, "This is my body, broken for you" rang in my ears.  Just as my teeth were grinding that bread into tiny pieces, once again, I was remembered that it was for me and because of me that Christ suffered.  I put Him there.  It was my sin.  I caused the pain.  I nailed Him there as surely as I was now grinding that wafer into little bits.  My heart wrenched with the thought of my wickedness and His sacrifice!
How thankful I am for the reminder of Christ's suffering that our monthly communion time brings. To sit in my seat and take of the bread and the cup is to remember that:
Christ died for individuals – you and me.
Just as I received Him as my Savior, I must personally keep a clean heart – before partaking of the bread and cup, and every day in between.
My sin put Him there.
He suffered untold pain and agony.
I'm preaching the message that I've been saved, and He is coming again every time I take comunion!
A personal message.  A personal remembrance.  A personal Savior.
Thank you, Lord, for making The Lord's Table a command for believers, so we would go back to the cross.  Thank you, dear Jesus for dying for me.  I remember.
Have you taken a heart-felt trip back to the cross to remember what He did for you?
Lovingly,