My church is hosting a Ladies' Brunch and Ornament Exchange on Saturday morning.  I'm always up for a fun event at church where we can fellowship over good food, open God's Word together, and share the special Christmas season!  Because we could have visitors who might not come prepared for the ornament exchange, I decided to bring some extras with me.  I wanted them to be special and pretty, but not too pricey.
I had seen some Rae Dunn ornaments that were lovely, but they were way more than I wanted to pay since I needed about six.  Then when I was Hobby Lobby this week, I got inspired to try to mimic the look of the Rae Dunn ornaments.  Let me show you my finished product then I'll tell you how easy it was to create.
I went to the adhesive letter area and found the Tall, skinny font that Rae Dunn products uses.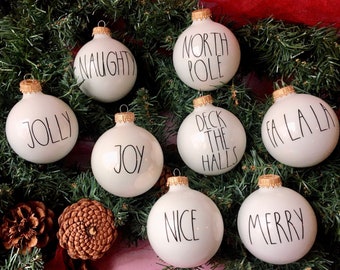 Being creative or crafty is all about being able to work around challenges.  The true Rae Dunn is black skinny letters on creamy white.  Hobby Lobby didn't have the tall, skinny letters in black, but they did have white!  I used my 40% off coupon and got the package for $3.59. These are not flat, but puffy.
I thought I'd use black ornaments with the white letters, but the only packages I found had broken ornaments inside!  So, once again, I had to be flexible and decided to go with the beautiful blush pink ones.  All the Christmas products are 50% off so, a package of eight large ornaments was $10!
I chose some wording like Rae Dunn offers – Joy, Jingle, Holly, but then also added, snow, Noel, Savior, and Messiah.  
The letters stuck on easily and yet allowed me to maneuver them, if needed.  If I notice that they're lifting a bit, I'll add a little glue stick glue to the letters, but so far, so good!
I purchased one package of the Puffer letters and had plenty for these eight ornaments.  Each ornament ended up costing me $1.70!
If you are blessed to own a Cricut Machine, you could cut out your own letters and make it truly like the original ornaments.  I found a really helpful You Tube video that you could follow to make another adorable copy cat version.
You might not need an ornament for an exchange, but this would make a lovely hostess gift, teacher gift, or addition to a wrapped package!
Refresh your Christmas ornaments with something homemade and beautiful!