Today we'll be celebrating an early Christmas with one of our daughters, her husband and my GRANDSONS!  I decided  it would be fun to have brunch together.  I had taken a Bacon and Cheddar Grits Quiche to our recent Church ladies' fellowship, and after making it again, I was reminded that it was something my family loves.  The quiche will be the main star of our meal!  It's pictured below.   
This recipe is amazingly delicious!  The crust is not pastry, but cheddar cheese grits.  Southern people love their grits and when you eat them fixed like this, you will, too!  Be warned, however – this recipe is easiest when started the day before.  I like to do steps 1-3 and refrigerate it overnight.  The next day you just mix the egg mixture and bake it for an hour or so. 
Bacon and Cheddar Cheese Grits Quiche
1/2 cup uncooked stone-ground grits
2 teaspoons kosher salt, divided
1 teaspoon black pepper, divided
2 1/2 cups shredded sharp Cheddar cheese, divided
1/3 cup sliced green onions
Preparation –
My Notes:  I did steps 1-3 a day in advance. This simplified the process greatly!
1. Preheat oven to 350°. Cook bacon in a skillet over medium heat until crisp. Remove bacon; drain and crumble. Transfer 2 tsp. bacon drippings to a saucepan.
2. Bring drippings, milk, and butter to a boil over medium heat. Gradually whisk in grits, 1 tsp. salt, and 1/2 tsp. pepper; cook, whisking constantly, 15 minutes or until very thick. Remove from heat; let stand 10 minutes. Stir in 1 cup cheese; let stand 10 minutes. Stir in 1 egg; spread in a 9-inch springform pan coated with cooking spray.
3. Bake at 350° for 25 minutes or until set and browned. Sprinkle remaining 1 1/2 cups cheese over warm grits, spreading to edges (this will keep the egg mixture from leaking through the springform pan). Let stand 15 minutes.
4. Reduce oven temperature to 325°. Combine half-and-half, cream, onions, and remaining 5 eggs, 1 tsp. salt, and 1/2 tsp. pepper. Pour over grits; sprinkle with crumbled bacon. Place pan on a foil-lined baking sheet.
5. Bake at 325° for 1 hour and 15 minutes or until lightly browned and just set. Let stand 20 minutes. Run a sharp knife around edges of quiche; remove sides of pan.
We will be sharing Christmas Eve with my parents, my sisters and their husbands.  My sweet sister is hosting us and we're each contributing to the meal.  I am making a new dish – Pioneer Woman's Twice Baked Potato Casserole.  I'm not 100% sure that Twice Bake Potatoes are purely southern, but all the butter, sour cream and cheese make it lean that direction!  I may lighten it up a bit, but I think it's going be delicious and will travel well. All we'll have to do is heat it up upon arrival!  It's a great make-ahead dish!  Here's the recipe ~
Pioneer Woman's Twice Baked Potato Casserole 
Her recipe here serves 16.  I'll be cutting this recipe in half
Ingredients
1 pound thin bacon
16 russet potatoes
6 tablespoons canola oil
4 sticks (1 pound) salted butter, plus more for buttering baking dish
2 cups sour cream
2 cups grated Cheddar or Jack (or a mix of both), plus more for topping
2 cups whole milk
4 teaspoons seasoned salt
6 green onions, sliced
Kosher salt and freshly ground black pepper
Preheat the oven to 400 degrees F.
Cook the bacon in a saute pan until crispy; let cool and then crumble.
Scrub the potatoes, then place them on baking sheets. Rub the potatoes with the canola oil and bake until tender, 45 minutes to 1 hour. Remove the potatoes and lower the oven temperature to 350 degrees F.
Slice the butter into pats and transfer to a large mixing bowl. Add the bacon and sour cream. With a sharp knife, cut each potato in half lengthwise and scrape out the insides into the mixing bowl. Tear up 3 of the skins and throw them in. Smash the potatoes with a potato masher. Add the cheese, milk, seasoned salt, green onions and some salt and pepper and mix together well.
Butter a baking dish, and then spoon the mixture into the dish, top with more grated cheese and bake until warmed through, 25 to 30 minutes.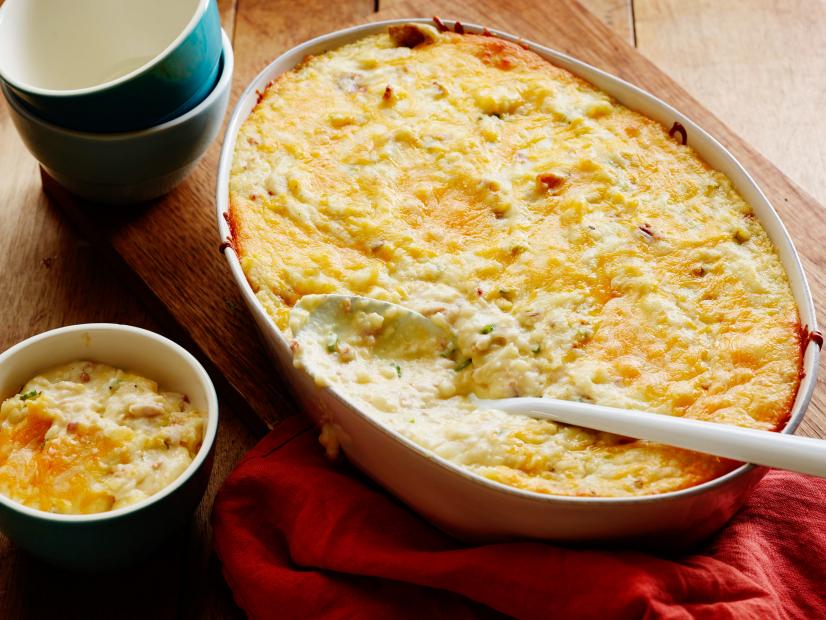 My dad's birthday is on Christmas Eve, so I get to bring the birthday cake!  His favorite cake is German Chocolate.!  This recipe was a winner when I had my baking business. I'll share the recipe with you next week.
In the meantime, I hope you're baking up some yummy recipes for Christmas wherever and however you celebrate.  Remember, even if there are "oops!" moments in your food or plans, the focus is on Christ.  Keep Him center of your heart and your plans as you move forward this week.
Merry cooking and baking!